The Rainbow Family of Living Light (commonly shortened to the Rainbow Family) is a loosely affiliated group of individuals committed to principles of non-violence and egalitarianism. Their Rainbow Gatherings are, as with many New age travellers, both celebrations and reunions of people separated, by necessity, for much of the year. Interculturalism (WP) is often evident in their adoption of tipi (WP) tents, and the beliefs, traditions, and prophecies of Indian tribes, the use of the word 'Babylon' in the same frame of reference as Rastafarianism, etc.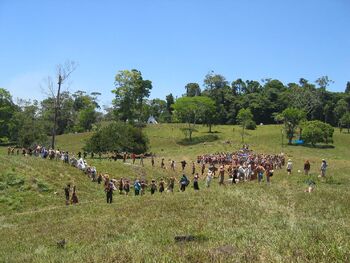 The Rainbow Family was founded in 1968 as an extension of the Wikipedia:Human Be-In in San Francisco's Wikipedia:Golden Gate Park. Since 1972, the Family has been holding their annual Gatherings in National Forests during the first week of July each year. Regional Gatherings are also held throughout the year in the Wikipedia:United States, as are national and regional gatherings in dozens of other countries. These Gatherings are non-commercial, and all who wish to attend peacefully are welcome to participate. Most gatherings elsewhere in the world last a month from new moon to new moon, with the full moon being the peak celebration. Traditionally the Gatherings last for a week in length, with the primary focus being on the Wikipedia:Fourth of July in the U.S., when attendees pray, Wikipedia:meditate, and/or observe silence in a group effort to focus on World Peace. Thus, the name Rainbow Family of Living Light.
Rainbow Gatherings emphasize welcoming people of all races, Wikipedia:religions, Wikipedia:ethnicities, and social status, with the common thread being a spiritual focus towards peace, love, and unity. There are no leaders; those who attend Rainbow Gatherings come from all walks of life, and work together on a variety of goals, among which are Wikipedia:intentional communities, Wikipedia:ecology, Wikipedia:spirituality, and an expanded tolerance for others. Attendees refer to one another as Rainbows, or often as Brother or Sister to help reinforce the emphasis upon their belief system that all people are not only related as part of the human race, but as members of a family, and should thus be given the respect deserved in such a relationship. Group Councils, the only form of government, are held regularly, with attendance being open to all interested parties and decisions being reached through Wikipedia:consensus. Further, money is never exchanged at Rainbow Gatherings. Instead, everything that you need is free, and anything you want can be obtained in barter - usually at Trade Circle. Someone holding a magic hat walks around (usually with others playing musical instruments and singing) and collects donations to buy supplies for main supply. As the peaceful and egalitarian practices of the Rainbow Family often set it apart from the many cultures outside of each gathering, the area within has become known to participants as "Rainbowland" for the duration of each event. In critical contrast to this, the world outside of gatherings is referred to as "Babylon."
The imbibing of alcohol (often viewed as a substance that encourages violence and disharmony) is highly frowned upon within Rainbowland. Thus, at U.S. gatherings, drinking is most often limited to the first camp, known as "A Camp," found just past the main entrance of each gathering. However, other recreational drugs are tolerated within the main camp.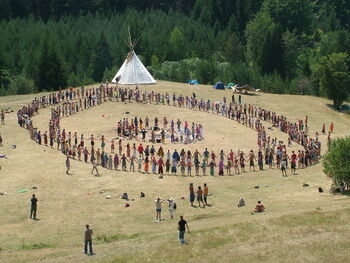 The organization is a loose international affiliation of individuals who have a common goal of trying to achieve Wikipedia:peace and Wikipedia:love on Wikipedia:Earth. Those who participate in, or sympathize with, the activities of this group sometimes refer to the group simply as the "Family." Rainbow Family participants make the claim that their group is the "largest non-organization of non-members in the world." In addition to referring to itself as a non-organization, the group's "non-members" also even playfully call the group a "disorganization." There are no official leaders or structure, no official Wikipedia:spokespersons, and no formalized membership. Strictly speaking, the only goals are set by each individual, as no individual can claim to represent all Rainbows in word or deed. Also contained within the domain of Rainbow Family philosophy are the ideals of creating an intentional community, showing respect for indigenous peoples and culture, practicing ecology and environmentalism, embodying spirituality and conscious evolution, and practicing non-commercialism.[1]
Main article: Rainbow Gathering
All Rainbow Gatherings are held with an open invitation to people of all walks of life, and of all beliefs, to share experiences, love, dance, music, food, and learning.
The Rainbow Family is most widely known for its large annual American Gatherings (i.e. U.S. "Nationals" or "Annuals") which are held on Wikipedia:U.S. Forest Service and Wikipedia:Bureau of Land Management (or "B.L.M.") land. These U.S. Annual Gatherings usually attract between 10,000 and 25,000 participants.
In addition to these larger U.S. Annuals, the Rainbow Family also holds Gatherings throughout the year in dozens of other countries. "World Gatherings" are also held from time to time in various countries. Other Rainbow Family activities include regional Gatherings (or Regionals) and retreats. There are also small, local activities such as local Wikipedia:drum circles, Wikipedia:potlucks, music related events, and campouts.
The Forest Service Incident Management team cost federal taxpayers $750,000 in 2006, and the team handled the Gathering in Colorado that year and other large events in National Forests. By comparison, the Wikipedia:Burning Man festival, unconnected to the Rainbow Family, is a commercial venture that operates each year in the Wikipedia:Black Rock Desert of Nevada, pays the Bureau of Land Management $750,000 for a permit, and recoups the cost by charging attendees between $210 and $360 .[2] Controversies over the Rainbow Family's 1987 Gathering are discussed in the book Wikipedia:Judge Dave and the Rainbow People.
The following is written significantly from the point of view of 'the establishment' and its authorities. It remains in the Wikipedia version of this article. For example, no mention is made of the favorable comparison between normal festivals and Rainbow Gatherings
The environmental impact of the Rainbow Family is often significant; easily overwhelming the meager resources available at most National Forest campgrounds. Members of the Rainbow Family have previously used nearby medical facilities and have left significant bills unpaid, as well as costing local animal control agencies who treated parvovirus amongst the dogs at the Rainbow Gathering in 2006.[3] Though the Rainbow Family removes its trash after a gathering, the Forest Service has criticized their cleanup efforts as being only "cosmetic" and "not rehabilitation by any stretch of the imagination." Cleanup crews have had to bury compost piles and cover fire pits.

In July 2011 a woman, Marie Hanson, went missing in Washington State after attending a Rainbow Gathering event. [4] The local Sheriff's office reportedly refused to use tracking dogs at the site, stating they were not sure a crime had taken place. [5] In October 2011, human remains and jewelry were found near the woman's campsite. [6]
Incidents
The following is written overwhelmingly from the point of view of 'the establishment' and its authorities. It was quite rightly removed from Wikipedia on those grounds, but is reprinted here to satisfy the demands of Wikipedia:Wikipedia:inclusionism. At worst, it is an example of establishment propaganda
1987
During June-July, 1987, the rainbow gathering led by Stephen Sedlardo, was attended by over 12,000 people in the Nantahala National Forest located in remote Graham County, in the southwestern NC Great Smoky Mountains. During the peak of the event on July 4th, jails were full to capacity in six southwestern NC counties. US Forest Service law enforcement officers were brought in from as far away as Alabama to police the gathering. As the chaos continued to spiral out of control, the Graham County Sheriff requested assistance from local NC state troopers, NC wildlife enforcement officers and agents of the NC State Bureau of Investigation, NC State Alcohol Law Enforcement and NC Division of Motor Vehicles. When that force was overwhelmed, NC Governor James Martin deployed 150 additional state troopers and 50 state wildlife enforcement officers from across the state, to reinforce the forest service officers and agents and the Graham County Sheriff's Office which only had 10 deputies at the time. Sheriff deputies from Macon, Swain, Clay, Haywood, Jackson and Cherokee Counties, along with Robbinsville and Cherokee tribal police, US Tennessee Valley Authority officers and US park rangers from the Great Smokies National Park were called to assist.
Officers reported sexual assaults, teen runaways, child abuse and neglect, assorted traffic violations, drunken driving, fugitives, public nudity, alcohol violations, fighting, drunkenness and open use of hard drugs. A 16-year old girl reported to officers she had runaway from home in Georgia to join the rainbows. She told of being held against her will and having been sexually assaulted by a group at the gathering. A seven year old boy was taken by social workers from his parents after he was given over to other rainbow family members as collateral for drugs. A local church was vandalized and area merchants reported "shoplifting teams" of rainbows would swarm stores and overwhelm store employees, who could not tell who was stealing. Area restaurants refused to serve rainbows over health concerns and reports of them leaving without paying for meals.
Rainbow enforcers, called the shanta-sena, were reported to be armed with clubs as a "thug presence" that extorted money and intimidated persons not to cooperate with law enforcement. In one instance, a large crowd of shanta-sena, characterized as a mob by officers, blocked a public road with a downed tree and threatened a team of federal and county law enforcement officers with shovels and tools as the officers attempted to remove the tree in order to patrol the area. When the group stated the officers would have to surrender their weapons and park their patrol vehicles, the officers backed away until reinforcements rushed in and dozens were arrested. A prison department bus was required to transport those arrested to jails, most on charges of disorderly conduct, intoxicated and disruptive and obstructing officers. In another instance, an Asheville Citizen-Times newspaper reporter had his camera damaged when he was assaulted by shanta-sena who were reportedly angry over adverse media coverage of the gathering. In still another incident, a naked woman who later stated she was on LSD, rushed officers at the command post, leaped on the roof of a parked patrol car and then kicked in the windshield. She was arrested and sent for a psychiatric evaluation.
The living conditions in the camp were cramped and squalid. An outbreak of bloody dysentery resulted in masses flooding local hospitals emergency rooms, as ambulances from across the region lined up on US 129 like a cab stand at a large airport. In early August, when state, local and federal officers served a federal court order to finally move in and evict remaining rainbows from the campsite, several more arrests were made for trespassing on federal lands. The area was so badly damaged and contaminated, that the US forest service closed it for several months. The Rainbows sued state, federal and local officers in federal court for among other things, taking photographs of persons, running license plates, not reading those arrested their rights and unspecified abuses of power. The suit was ultimately dismissed in that it cited no wrongdoing by law enforcement. The rainbows reportedly preferred national forest lands to national parks, because the US government had already deployed a mass force of US park police to one previous gathering on national park lands. The 1987 gathering was the largest in history and cost over $7 million dollars to various state, local and federal agencies, close to $12 million in modern costs.

2008
In July, 2008, an incident occurred at a Rainbow Gathering in Wyoming when Forest Service officers tried to arrest a member of the group. A spokeswoman for the U.S. Forest Service said that about 400 participants in the Gathering began to advance, throwing sticks and rocks at the officers,[7] although this was disputed by Gathering participants. The ACLU alleges that pepper balls were then fired to control the crowd.[8][9] Witnesses reported that officers pointed weapons at children and fired rubber bullets at gathering participants. A federal probe later disproved those reports as false and based on hearsay. [10] The Wikipedia:ACLU produced a Wikipedia:press release, following their review of the incident in which they were as to be expected, critical of the officers. The ACLU report, which was later discredited and debunked by federal and state officials, claimed a perceived pattern of harassment and the use of over-zealous enforcement techniques such as using small violations as a pretense for larger searches, although such actions permissible under federal and state laws and are are normal police precedures.[8]
The 2008 gathering of the Rainbow Family near Pinedale, Wyoming came in direct conflict with a planned gathering of Arrowcorps, a large Boy Scouts of America gathering. The Boy Scout members had acquired a permit and planned the gathering, whose purpose is to rehab local trails and National Forests, for 4 years. When Rainbow Family decided to hold their gathering in the same location officials asked Rainbow Family, who did not have a permit, to move to another area, they declined. Officials in dealings with the representatives of Rainbow Family noted that members were "arrogant" and "non-compromising" and eventually the Forest Service decided to evict the Boy Scouts. Boy Scout representatives say they felt slighted. This incident prompted Wyoming officials to consider means of controlling future gatherings like Rainbow Family including stricter permit requirements, outright bans based on lessons learned from the NC gathering in 1987, and other control methods. John Twiss, chief of law enforcement and investigations for the U.S. Forest Service, said "we spend an awful lot of time and effort on [Rainbow Family]. And frankly, the taxpayers deserve better." [11]
This article may contain material from Wikipedia
An article on this subject has been redirected
to another page on WP:
Manitonquat (Medicine Story)
Current versions of the GNU FDL article on Wikipedia may contain information useful to the improvement of this article
WP
R
E
D
Welcomehome.org Rainbow Family of the Living Light "Unofficial Homepage"
[1] The "hipstory" of the Rainbow Family

cs:Rainbow Family es:Rainbow Family fr:Rainbow Family it:Rainbow Family pl:Rainbow Family pt:Família arco-íris sr:Дугина породица
Community content is available under
CC-BY-SA
unless otherwise noted.