The cover of the second and third editions of the Whole Earth Catalog.[1] Taken by Apollo 8 crewmember Bill Anders on December 24, 1968, at mission time 075:49:07 [1] (16:40 UTC), while in orbit around the Moon, showing the Earth rising for the third time above the lunar horizon. The lunar horizon is approximately 780 kilometers from the spacecraft. Width of the photographed area at the lunar horizon is about 175 kilometers. [2] The land mass visible just above the terminator line is west Africa. Note that this phenomenon is only visible to an observer in motion relative to the lunar surface. Because of the Moon's synchronous rotation relative to the Earth (i.e., the same side of the Moon is always facing Earth), the Earth appears to be stationary (measured in anything less than a geological timescale) in the lunar "sky". In order to observe the effect of Earth rising or setting over the Moon's horizon, an observer must travel towards or away from the point on the lunar surface where the Earth is most directly overhead (centred in the sky). Otherwise, the Earth's apparent motion/visible change will be limited to: 1. Growing larger/smaller as the orbital distance between the two bodies changes. 2. Slight apparent movement of the Earth due to the eccenticity of the Moon's orbit, the effect being called libration. 3. Rotation of the Earth (the Moon's rotation is synchronous relative to the Earth, the Earth's rotation is not synchronous relative to the Moon). 4. Atmospheric & surface changes on Earth (i.e.: weather patterns, changing seasons, etc.). Two craters, visible on the image were named 8 Homeward and Anders' Earthrise in honor of Apollo 8 by IAU in 2018. [3]
810 articles, including :
Many "Allied" troops were not
even sent home after,
but sent to the :


to destroy the fledgling USSR
Crosby, Stills & Nash (CSN) have been, became not, became again, became not, and may yet become again, although probably not, a vocal folk rock (WP) supergroup (WP) made up of American singer-songwriters David Crosby (WP) and Stephen Stills (WP) and English singer-songwriter Graham Nash (WP). Canadian (WP) singer-songwriter Neil Young (WP) joins the band on occasion as a fourth member, which configuration is known as Crosby, Stills, Nash & Young (CSNY).
CSNY are noted for their intricate vocal harmonies, political activism, and lasting influence on music and culture, particularly counterculture (WP), particularly of the 1960s (WP).
However, coverage of the band comes in two parts, even if in the same article. They are also noted for their often tumultuous interpersonal relationships, for example, which one might hope would be no one's business but theirs and unscrupulous tabloids. One will see acclaim and enthusiasm for their musicianship and unflinching adherence to the ethically and culturally sound hippie ethos. And one will see vendors of titillation, with tales utterly uninhibited by normal standards of biography; running the gamut from jocular through dismissive to savage. This can be clearly seen in parts of the following article that come from Wikipia, which do not merely break but disintegrate inexorably in passing, the Biographies of Living Persons (BLP) rule as if it wasn't there, with hubris such as noting a band member's "megalomania" (with a link to the medical condition). Music press yarn-spinning about sex and drugs is presented as a given, without regard to reliability of information, let alone BLP.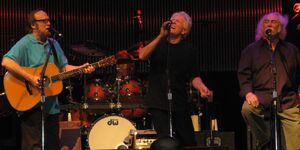 To be fair, there is one joke about CSNY which is impossible to miss, difficult to work around, and arguably funny, which is in the first sentence of this article. CSNY were the original "band that keeps breaking up, promises never to get back together, gets back together and then breaks up again and promises another reunion that may never happen", even if 90% of such hype is manufactured by the press. They have not made a group studio album since the 20th Century, and are inactive as of 2019. Whether or not this break is permanent remains to be seen, as the group has often been inactive for years at a time.
Crosby, Stills & Nash were inducted into the Rock and Roll Hall of Fame (WP) and Neil Young has been inducted as a solo artist. All four members were also inducted for their work in other groups (Crosby for the Byrds (WP), Stills and Young for Buffalo Springfield (WP) and Nash for the Hollies (WP)).[1]
CSNY's music, even more so than the former bands of their constituent members and many of their contemporaries, reflected the tastes and viewpoints of the counterculture in the late 1960s (WP) and 1970s. The group (and Crosby in particular) made their political feelings clear on many issues, including the foremost and, in a post-McCarthy decade, most dangerous issue: protest against the Viet Nam War (WP), more than a decade old in 1970 (WP).
The song, "Ohio", was written in response to the deaths of four students (WP) at Kent State University. The students were shot by Ohio National Guardsmen during an anti-war protest on the campus in May 1970.[2]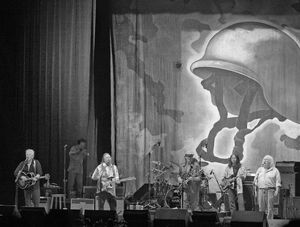 The release of "Ohio (WP)" marked the boldest musical statement made to that date, against a backdrop of COINTELPRO (WP) covert operations and open police brutality and murder of activists against the Viet Nam War (WP). The song called to all, and many responded to it calling out Richard Nixon (WP) by name. "Ohio" voiced the counterculture's rage and despair at the events.
The band has been continuously associated with political causes throughout its existence, the latest example being the song "Almost Gone (The Ballad of Bradley Manning)" which focuses on the length and conditions of Chelsea Manning (WP)'s pre-trial confinement.[3]
"Ohio", their appearance in both the festival and movie of Woodstock (WP), and the runaway success of their two albums, gave the group, at the beginning of the 70s, a measure of popular and critical acclaim far greater than their previous bands. They received twenty-seven Platinum certifications across seven albums.
Recent Changes
New Images
Add a photo

Virginia Dixon Good (Ginny) (Born March 5th 1941) was the second of three sisters. There is evidence to suggest that she was the among the first person to be called a "hippie", and probably the first person to be called that in print.[4]

References
To write a new article, just enter the article title in the box below.
<createbox> width=24 break=no buttonlabel=Create new article </createbox>
Not sure where to start?
Articles on animal rights and other issues with organizations dedicated to direct action, or other articles similarly less appropriate for Hippiepedia may be found, or added to, Anarchopedia, at http://eng.anarchopedia.org/Main_Page
Articles on environmentalism, or other articles similarly less appropriate for Hippiepedia may be found, or added to, Wikipedia, at Wikipedia:Category:Lists of environmental topics, or the Eco-Wiki at Wikia
Special:WikiActivity [[File:Hip Stonehenge84.jpg|thumb|center|Gathering at the Stones; Stonehenge Free Festival, 1984|600px
I refuse to call this, "Wikiweedia"
The more I work on this wiki, the more convinced I am that the established wisdom that hippies blew it is utterly bogus. In a decade or so, they established a cultural influence that reaches across every facet of western society, from politics to shoes, and that still thrives despite a concerted campaign of eradication. No other generation since even has a name recognizable to as wide a population, even the current one with their fine work in the Occupy movement, and mine, who did nothing wrong. Nothing, but nothing wrong.
20th of March, 2011: Wikipedia is a great place for conservation articles. No finer collection anywhere. But it is a snakepit of political partisanship in every other area, and that means everything else to do with Hippies, including some conservation articles, is in jeopardy there. I will continue to bring content from Wikipedia here that is nominated for deletion on Wikipedia and is a better fit here than on Anarchopedia
4th June 2014. One of the more curious things about Hippiepedia, once one scratches the surface, is the profusion of pages that are peripheral to any given subject. Not Bricklaying, much less Construction, but instead Dutch brick (stabilized earth block). This is because of the mission noted above: rescuing articles from deletion on Wikipedia. I have attempted to address this problem by slowly, as time allows, adding a core of exclusively hippie-related articles that is listed at the top of the main page. It is mostly in red links, as I write, but that will change.
Date- News text

Rock wikis:
No Janis Joplin, no Doors. Odd.
Woodstock wikia
Rock music wikia
| | | |
| --- | --- | --- |
| Stills and Young - Mr. Soul, Woodstock 1969 | Woodstock 69 The Lost Performances The Band, Canned Heat, Joan Baez, Crosby Stills Nash, Janis Jop | Crosby, Stills, Nash and Young Long Time Gone *LIVE* At Woodstock 1969 |
| [[File:Sly Family Stone 1969 Promo.jpg|thumb|280px| Sly and the Family Stone, 1969]] | | |
| | | |
| | | |
| | | |
| | | |
| | | |
| | | |
| | | |
| | | |
| | | |
| | | |
| | | |
Hip intel
Preferably, not merely "news". News never speculates, but News also rarely tells you about it until after it happened. Intel prepares you to think about what comes next, and stop it from happening.

Eliminate the Middlemen
There is a problem with the word "plutocrat", since it is used to mean, "person whose power comes from their wealth", but it literally means, "person whose power comes from wealth". Which is what our Representatives, and the power of what passes for democracy, wield.
The first ever meeting of the CIA was predominantly attended by international business Lawyers. More so States around the world (mostly the US, but not the US alone), but also their Politicians, have been serving the interests of Capitalists for over a hundred years. Trump's administration, however, will be the first to eliminate what Capitalists consider the unnecessary middleman: Politicians. Ironic, because people who kept faith with a better way (a planned political economy) have always considered both Capitalists and Politicians to be unnecessary middlemen.

Standing Rock Oil Pipeline
Standing Rock Sioux Tribe - Water is Life

Yanis Varoufakis
The counterpoint to Noam Chomsky's searchlight on the Economic Hitmen and other Warriors for Inequality and their employers; former Greek Prime Minister Yanis has the scoop on another great corruption of ostensibly legitimate institutions: the real power and motivation behind the European Union and its congruence with the World Bank, World Trade Organization et al: Varoufakis with Chomsky talking about Greek Crisis

Torrentz.eu shuts down
"Torrentz will always love you. Farewell."[4][5][6][7][8][9]How To Bypass The Mass Blocking Of BitTorrent & Music Download Sites By UK ISP's

We get the government we deserve...well, half of us deserve, anyway
"...if he's elected, government will become as full of compassion and love and decency as the American people themselves--including lots of folks like me!"
"But you're a mean, selfish bigot..." - Doonesbury, 1976


Biden Rule

Bush Sr. GHW replaced progressive judge William Brennan with conservative David Souter in 1990 and liberal Thurgood Marshall with conservative Clarence Thomas in 1991. Biden delivered a speech in 1992 with a hypothetical example of a THIRD nomination by a president that the US people voted out after only one term, in the final months of his presidency. 12 of 44 presidents have served only one term. Before Clinton in 1993, only Republicans had nominated to the Supreme Court in the twenty-six years since Johnson in 1967; Nixon nominated four SC Justices, Reagan four, and even the 2-year president Ford nominated one!

Twice a day
Even a stopped clock is right twice a day
"Gone to Hell"

"A cynical line would begin to circulate in Washington: In Iraq, the United States had intervened and occupied — and things had gone to hell. In Libya, the United States had intervened but not occupied — and things had gone to hell. And in Syria, the United States had neither intervened nor occupied — and things had still gone to hell." - The New York Times [1]

We know regime change is never right, and things have already gone to hell for anyone to contemplate it being right. We know that the US already HAD intervened in Syria. We know that the higher up the chain of real political and economic power one looks, the better it suits them that their enemies are disadvantaged. Rumble Fish in a barrel, a bunch of the only people opposing America's military push for total supremacy of the elite economic empires of the world, all fighting each other, looks very good indeed to them. But for those in Washington, maintaining their positions depends on them either, maintaining a degree of ignorance and self-delusion, with which to delude others, or for those who know and lie, pretending to the same delusion. And so "the United States had neither intervened nor occupied" in Syria. But it seems even they can not escape the conclusion that things had gone to hell.
Terrorism definition
Pershing's pig-blood-bullet myth . Unusual punishment (Communications Management Unit (WP)). Anonymous (WP) April Fool's day operation: Anyone on the internet can participate[2]
For too long, media, pundits, and assorted people who know better were using the words "terrorist" and "terrorism" to describe a range of arsonists, monkey wrenchers, freedom fighters, irregular army, assassins, snipers, partisans, people in the wrong place at the wrong time and saboteurs.
What was needed was a public figure to define the term properly, and so it came to pass, albeit from an unlikely source indeed: parasitic scalp alien host and foot in mouth disease outpatient Donald Drumpf (Trump's actual family name was changed from Drumpf).[3] Trump's definition was not only accurate but graphic and chilling, unless you were one of those in his audience feeling a swelling of national pride at the thought of the American Empire doing terrorism on one of the irregular army combatants or actual terrorists, real or imagined.[4]
"He took 50 bullets and he dipped them in pig's blood. And he had his men load his rifles and he lined up the fifty people, and they shot 49 of those people. And the 50th person, he said, 'You go back to your people and you tell them what happened.' And for 25 years there wasn't a problem. So we better start getting tough and we better start getting vigilant, and we better start using our heads or we're not gonna have a country, folks."[5]
The incident as Trump tells it never happened, and terrorism has never once achieved its objective. Pershing is more famous for reading the Koran with the Moro people to make the peace. People who are dedicated to a just ideal become more dedicated when faced with obvious injustice by their foes. But perhaps Pershing was not only a peacemaker; a newspaper account of the time has him doing what was still terrorism, but a lesser terrorism, because there was no deadly violence -he did not kill the men- only the psychological warfare against the men themselves, sprinkling them with pig's blood.[6]
Advocates smile and think, "how silly of them" to be afraid for their souls, but to them it was real, a fate worse than death. For Muslims, ingesting pork is a sin, and pig's blood is considered unholy. A person who touches pig is defiled, and they cannot enter heaven. Count on Trump to use the word terrorist himself, in describing the victims. They are in fact known to anthropologists as Juramentados, people who had consecrated themselves to the task of killing those who they believed their religion demanded dead. Assassins, in other words. The truth would be in the details (imperialists having done some highly immoral things in the Philippines); the danger of error lying before the devotee (would the world actually be better off without this person?), and only the instigation of the thought and some pretty hefty justification for the deed can be blamed on the religion. For absolute moralists, of course, there is no question: killing is wrong. But then, as there is war, and they let it happen, there are an awful lot of blindly hypocritical absolute moralists.
Like the Viet Nam War, Saudi Arabia's
invasion of Yemen is a critical
logical premise
When the US, in 1954, abstained from voting for elections to determine the ruling government of Viet Nam at the Geneva Conference of 1954, and then violated All or almost all of the terms agreed upon by the rest of the world (declaring the ceasefire zone in the south a country, installing a puppet government, bringing in troops, bringing in weapons, probably other violations, and then fighting a war), they were, in effect, fighting a war against democracy. So this was a very important logical premise: if the US was warring on other countries with no regard to their well-being, the answer was always, they were doing it for democracy. Viet Nam proves that that is not true.
In the first invasion of Iraq, when Saddam Hussein was double-crossed by the State Department into thinking he had their OK to take back the oil fields of Kuwait (a tiny country carved out of Iraq's borders, the loot of the Ottoman Empire for the victors of World War I, with no other purpose than to concentrate almost as much oil as the whole of Iraq itself under imperial control), the premise was that a big country was picking on a little one, and the US had to intervene. But the lack of US opposition to, or even comment on, the Saudi Arabian invasion of Yemen proves that is not true.
Antonin Scalia dead
As early as the years following the universally reviled World War I, reaction against which made possible the beginnings of the Peace Movement, the discussion about the evils of war was being redirected to a smokescreen of fear of a nebulous evil, and the brave soldiers who keep us from it. Therein is a bandwagon (WP) argument as well; "if you do not follow me in the direction of my diversion, then you do not support veterans."
In U.S. President Woodrow Wilson's proclamation of the first Armistice Day, November 11, 1919, he said
"To us in America, the reflections of Armistice Day will be filled with solemn pride in the heroism of those who died in the country's service and with gratitude for the victory, both because of the thing from which it has freed us and because of the opportunity it has given America to show her sympathy with peace and justice in the councils of the nations."[10]
And what better way to do that than change the nature of the day that had already served the purpose of redirecting disgust with a terrible war to patriotism? The mere reminder of World War I was, in 1954, now inconvenient, so Congress, with the approval of former general Dwight Eisenhower, replaced the word "Armistice" with "Veterans"
When the Oil Runs Out,
the Globe Will Begin to Stop Warming

Warm weather has melted the polar ice cap and just like ice in a glass of water it cools up water flowing down south, which cools the air going down south and makes weather along the coast cooler.
Similarly, the storm circle wall of storm winds that surrounded the Arctic Circle has broken down. Warm temperature disrupted that wind system and let the cool air spill out. For the second winter in a row, the cool air is spilling out into the Southern Hemisphere and allowing the Arctic Circle to be warmed. From the perspective of people south of the Arctic Circle these look like cooler temperatures. But in fact they are symptoms of the warming of the Arctic Circle and melting of the ice caps.
Another unnoticed delaying effect are the "elevator" currents that pass under the very deep ocean, and up and out thousands of miles away. These currents take years to convey their water load; they are filling up with warmer water, and for years, they will deposit only the earlier, colder water stream.
These are not stabilizing influences on the weather, they are not even a lifebelt; they are a speedbump on the way off the cliff, and have an insidious negative effect as well: they hide what happens when their influence runs out, and the temperature much more suddenly increases.
List of Israeli attacks on the Gaza Strip (23 since the year 2000)
Independence for Slavers:
New book about what really happened on July 4th, 1776

Professor Gerald Horne has written two new books which show that the collision of forces in the Caribbean and the Americas left the new United States as the sole dominant slave runners, and that in fact it had dominated the slave trade even before its creation. Major legal decisions against slavery occurred before the War of Independence showing a clear interest for US slavers to protect their lucrative business. Note-1776 was not a Revolution-those are always civil wars, and bloody things they are, as the losers have nowhere to sail home to. Professor Horne's interview on Democracy Now!


US coup plotters caught red-handed, media accuse them of being rude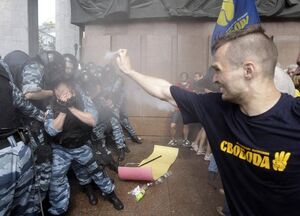 The Nuland-Pyatt phone call[12][13] proves what conspiracy theory debunkers always said was always true: coups are not secret plots cooked up by conspirators huddled in a circle in dark smokey boardrooms. No, they are breezily ticked off the agenda in neat well-lit government offices in five minute telephone conversations. The dirty work is, in Europe at any rate, carried out by Nazi boot boys and murderers,[14] and there is no secrecy; the news just makes it into a foiled Communist intervention and a glorious welcoming of new Ukrainian friends into the generous fold of European capitalism. The /ignore switch was made instantly-all the stories were about how rude and irresponsible Nuland was for saying, "Fuck the EU". At least half of Ukraine had no intention of letting their country fall into the hands of the world's Corporatocracy by way of the country's Fascists if they could possibly help it, but they could not possibly help it. Let us hope the reported 50% who are manifestly good (it happened!) at deciding what is good for Ukraine are as good at sharing the collective pain of the EU's belt-tightening.
The map is clear: the US destroyed Ukraine's sovereignty to disrupt Russia's gas pipelines to Europe,[15][16] The PsyOps report intercepted by WikiLeaks is equally clear: NATO knew in advance that Russia would react militarily, thereby providing pretext forwards, to cover any actions, and backwards, in the event of discovery of the coup.[17]
Two other points should be noted here:
The same is true of Syria:[18] although no one should really want to make Syria a hero because they are victimized, it is important to remember who the victimizers are.
Russia's gas is important to Europe. Crushing Europe and the EU is as much a part of the US plan as crushing Russia and Ukraine. Whatever does not hurt the US is good for the US.


Villains torture
Henchmen enable villains
No charges against Bush & Co.[19]
Despite passing over Bush's chosen ones and only punishing (we can only hope) the patsies semi-randomly chosen from the "expendable" list, Feinstein's committee, and/or the forces that oppose it, dragged out the release of the document for over a year.[20]
UN: US laws violate human rights treaties
The U.N. Human Rights Committee in Geneva in March 2014 condemned the United States for criminalizing homelessness, calling it "cruel, inhuman and degrading treatment". [21]

In 1967, the US supported Biafra in the south. Guess which part has all the oil?
Now they are trying again to take Nigeria

The US military is entering Nigeria, as one might predict if one kept track of which countries from the list of countries by proven oil reserves have not yet come under US influence.[22] The Boko Haram are not conducting a false flag operation, they are a false flag. They are a convenient villain that the US can come in and gloriously slay.[22] The rebellion may be the phoniest US pretext ever. Nigerian leaders knew about the BH raid that abducted schoolgirls four hours before it happened.[23] Boko Haram means, "Western education is forbidden".[24] Why advertise what is opposed? BH is a Muslim group, but kills Muslims.[25][22] At one point in 2013, BH had gotten very close to taking over the country, but instead, their leaders met with government leaders and arranged a ceasefire, ensuring that BH could back off, start again, and keep the war an Endless War.
Obama and Eric (what Geneva Conventions?) Holder have promised to intervene,[26] a handful of US troops "specializing in intelligence" have already arrived,[27] and the Voice of America Thinks You Should Know, the French have sent some troops too.[28] Former Nigeria owner, the UK, is surely not to be left out in this race to Berlin.[29]
As with South Sudan, one of the Seven Countries in Twelve Years which have fallen victim to US invasion, all the oil is in the south. When the US intervened in Nigeria last, it goaded Biafra, in the south, into a war for independence that was doomed from the start; it was unnecessary, and Biafra was clearly not matched with its opponent. News outlets are quick to explain that the Delta region in the south has been placated by the government, but that does not explain the fervor of Biafran nationalism, fifty years later-just search the hashtag #Biafra on Twitter for comments such as "Nigeria is a failed state" (#1 economy in Africa, remember?). Crowd control in the safe seat of Biafra, and an attack from within the difficult north, will ensure the US the best advantage; they can count on the South, and starting it in Biafra again would have been too obvious. The news outlets fail to account for Boko Haram coming into being WITHOUT the fervor of the south. As they have it, the south was placated by the government (and as the oil-rich south, why would they need to be unless it is another not-enough-overpaid revolution like Libya). This supposedly left out a particular region of the north, and voila! Boko Haram!
The news of invasion follows months of news of the Boko Haram activity, and that Nigeria had suddenly leaped past South Africa to take the lead position as Africa's biggest economy.[30] The Left are ready to condemn the rebels; noble sentiments abound in the propaganda campaigns like the #BringBackOurGirls hashtag on Twitter,[31][32] But they are also ready to accept American invasion. The right will embrace Nigeria as a cause, because it is now rich enough to care about. The sudden leap is doubtless a result of another financial asset of intelligence services-just flat out stealing money from other countries. Pay off the right people, skim money off the top of their budget. Assuming the whole thing is orchestrated by the US, they would stop stealing in time to make the "riches" announcement, and make the suddenly rich country a nice gift for whatever puppet will take over, and restart the skimming afterwards if desired. Or it may be that Nigeria is not worth keeping as a democracy anymore, now that they discovered the theft.[30]
__NOEDITSECTION_
Community content is available under
CC-BY-SA
unless otherwise noted.